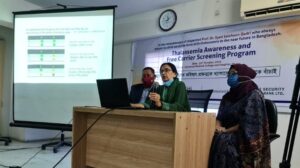 Thalassemia can be prevented – with this belief, ideSHi co-founder Prof. Syed Saleheen Qadri started the thalassemia awareness and free screening programs across Bangladesh. Since its inception in 2017, ideSHi has visited many higher-educational institutions to spread the word about thalassemia.
Thalassemia is an autosomal recessive genetic disorder. This means that this disease is not transmissible, only inherited, and affects those who inherit the faulty hemoglobin gene from both parents. A person can have thalassemia if both parents are carriers (meaning they carry one faulty and one normal gene), if one parent is a patient and the other a carrier, or if both parents are patients. This means that thalassemia is easily preventable with awareness and careful family planning.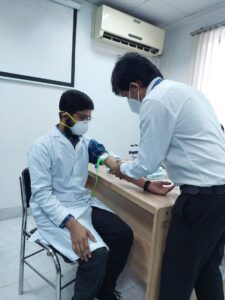 Through the "Thalassemia Awareness and Free Carrier Screening Program" held at Universal Medical College and Hospital on 30th October, 2021, this is the message ideSHi was attempting to spread. A seminar was conducted by ideSHi lead Dr. Firdausi Qadri in the memory of esteemed researcher and educator Prof. Syed Saleheen Qadri who believed in a Bangladesh where no babies would be born with thalassemia. Mr. Md. Mustafa Khair, Additional Managing Director of First Security Islami Bank Ltd., was present at this event to represent FSIB, who generously financed this screening program.
In this screening program, students of Universal Medical College could get their blood tested for the gene defect causing thalassemia. As 1 in 11 Bangladeshis are carriers of thalassemia, screening programs like these enable identification of carriers and thus pave the way for conscious family planning decisions, with the ultimate goal of lowering the prevalence of the disorder in future generations.
Researchers at ideSHi have conducted extensive research on thalassemia in the past. To conclude the seminar, Dr. Firdausi Qadri has expressed hope for this to continue in the future, saying the institute plans to investigate the causes behind these gene mutations in upcoming studies.