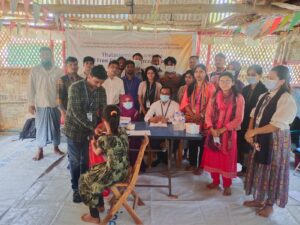 One of Bangladesh's top tourist attractions is the city of Cox's Bazar. But only about 35 km away from this buzzing tourist hub lies the upazila of Ukhiya, which houses about 600 000 Rohingya refugees displaced from Myanmar. On the 10th and 12th of March, ideSHi visited Ukhiya to continue its mission to eradicate thalassemia from Bangladesh at HMBD Learning Center in Camp-13.
The trip to the camp is hardly comfortable. After a thirteen-hour bus ride from Dhaka to Cox's Bazar, our staff headed to Ukhiya by car, which takes two hours due to road conditions. But the sight of the refugee children, many of whom are separated from their parents, moving on with their lives and taking classes in the learning center erases the exhaustion. On day one, the 10th of March, the perseverance of these children took center stage as our lead Dr. Firdausi Qadri, joined by the Managing Director of First Security Islami Bank Ltd. Mr. Syed Waseque Md. Ali and esteemed philanthropist and educator Mrs. Humayra Ali, toured the camp and conducted a session on the importance of thalassemia awareness.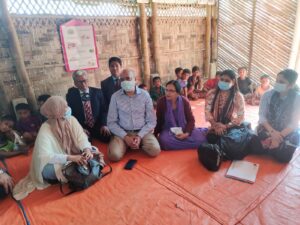 Thalassemia is a genetic disorder that affects the oxygen-carrying capacity of blood. It is passed down from affected parents or if both parents are carriers of the defective hemoglobin gene. As this deadly disease is only transmitted genetically, the only way to reduce its prevalence is for carriers to avoid having children with other carriers. Awareness and screening programs are some of the most efficient ways to ensure the disease does not continue to be passed on through generations. In the Rohingya camps, where knowledge about thalassemia is close to nonexistent, and statistics reveal the prevalence of thalassemia to be significantly high in Myanmar1, spreading awareness is even more important.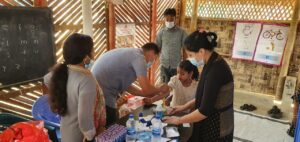 On the 12th of March, samples were collected from 124 participants and analyzed for the defective Hb gene. This project was generously sponsored by First Security Islami Bank Ltd. This marks ideSHi's 16th such event on Thalassemia prevention, and 3rd collaboration with FSIBL on this initiative. As ideSHi and FSIBL strives towards a thalassemia-free Bangladesh, we carry with us the imprint of the smiling faces of the Rohingya children in Ukhiya.