On the 8th of January 2022, ideSHi conducted the "Thalassemia Awareness and Free Carrier Screening Program" in Ruqayyah Hall of the University of Dhaka, sponsored by First Security Islami Bank (FSIBL). This was the first of many projected Thalassemia awareness and screening programs ideSHi hopes to organize in the new year.
Thalassemia is an inherited blood disorder characterized by decreased hemoglobin production. Symptoms may vary from none to severe depending on the variety of the mutation. The most severe form of thalassemia, Transfusion-dependent beta Thalassemia (TDT) requires lifelong regular blood transfusion to maintain Hb level. Pre-mature death may occur.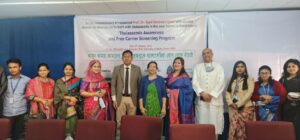 ideSHi lead Dr. Firdausi Qadri delivered a talk on the genetics and prevalence of thalassemia, highlighting the urgency of spreading awareness about its transmission among the susceptible Bangladeshi population. Sayed Waseque Md. Ali, Managing Director of FSIBL; Prof. Dr. Zeenat Huda, Provost of Ruqayyah Hall, University of Dhaka; Prof. Dr. Emran Kabir Chowdhury, Vice-Chancellor of Cumilla University; Prof. Dr. Sharmin Rumi Alim, Professor of the Institute of Nutrition and Food Science, University of Dhaka graced the event with their presence and spoke about the necessity of the Thalassemia Awareness and Free Carrier Screening Program across the country.
The event was organized with the hope that it would help young women understand the consequences and context of the disease and encourage them to make more informed decisions. A large number of residents of Ruqayyah Hall enthusiastically attended the session. A total of 162 students gave their blood samples to test for the defective hemoglobin chain responsible for thalassemia.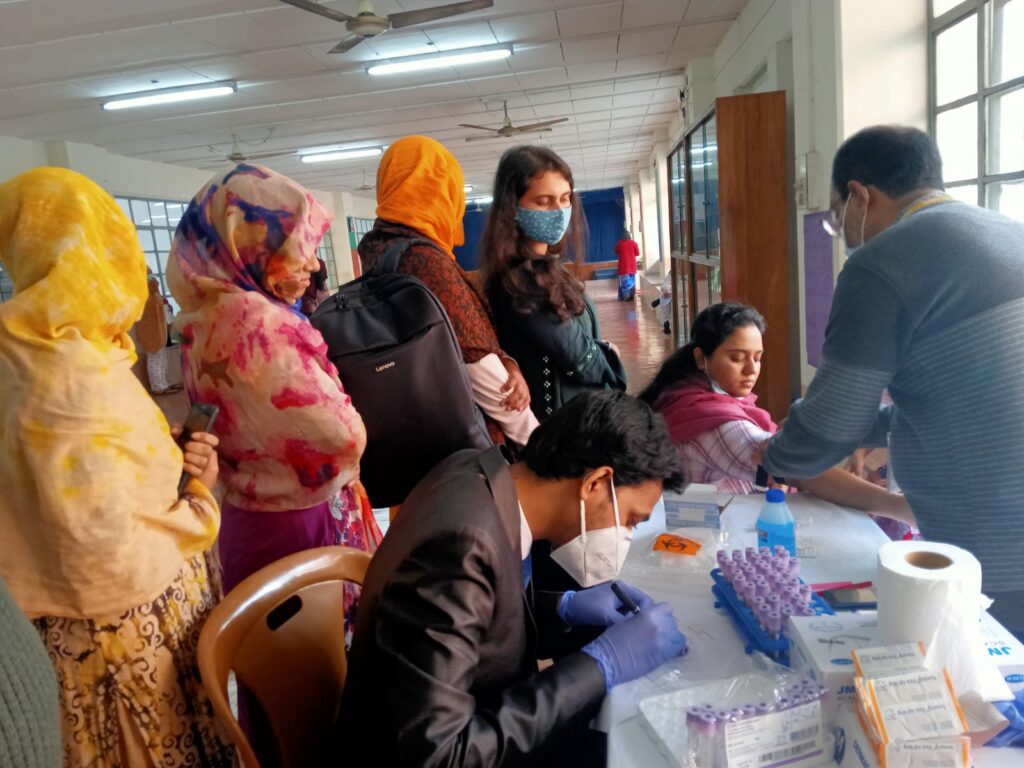 < Students of Ruqayyah Hall queuing up for sample collection for Thalassemia Carrier Screening.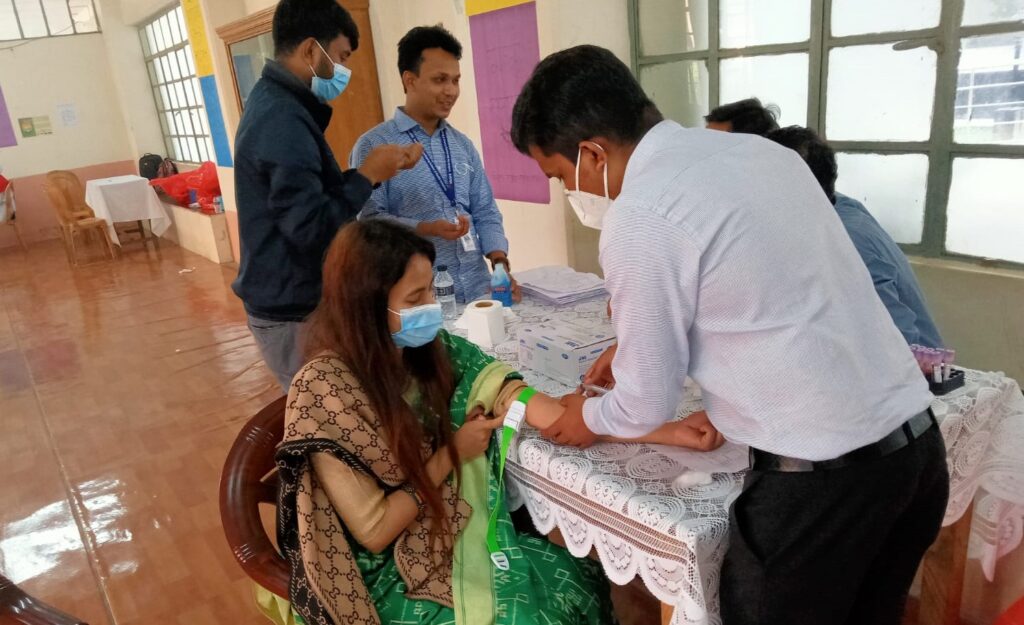 A participant giving her blood to be tested for the defective Hb gene. >
In the past, ideSHi had carried out twelve such awareness programs and tested 1877 people in Bangladesh as part of thalassemia screening. Previous research at ideSHi indicates as much as 11% of the Bangladeshi population1 may be carriers of the disease, posing a formidable risk for future generations if awareness is not spread.
In her concluding note, Dr. Qadri pledged that ideSHi will continue thalassemia research and community awareness programs until thalassemia is eliminated in Bangladesh, helping realize the dream of our late co-founder Prof. Syed Saleheen Qadri, who pioneered the institute's work on thalassemia.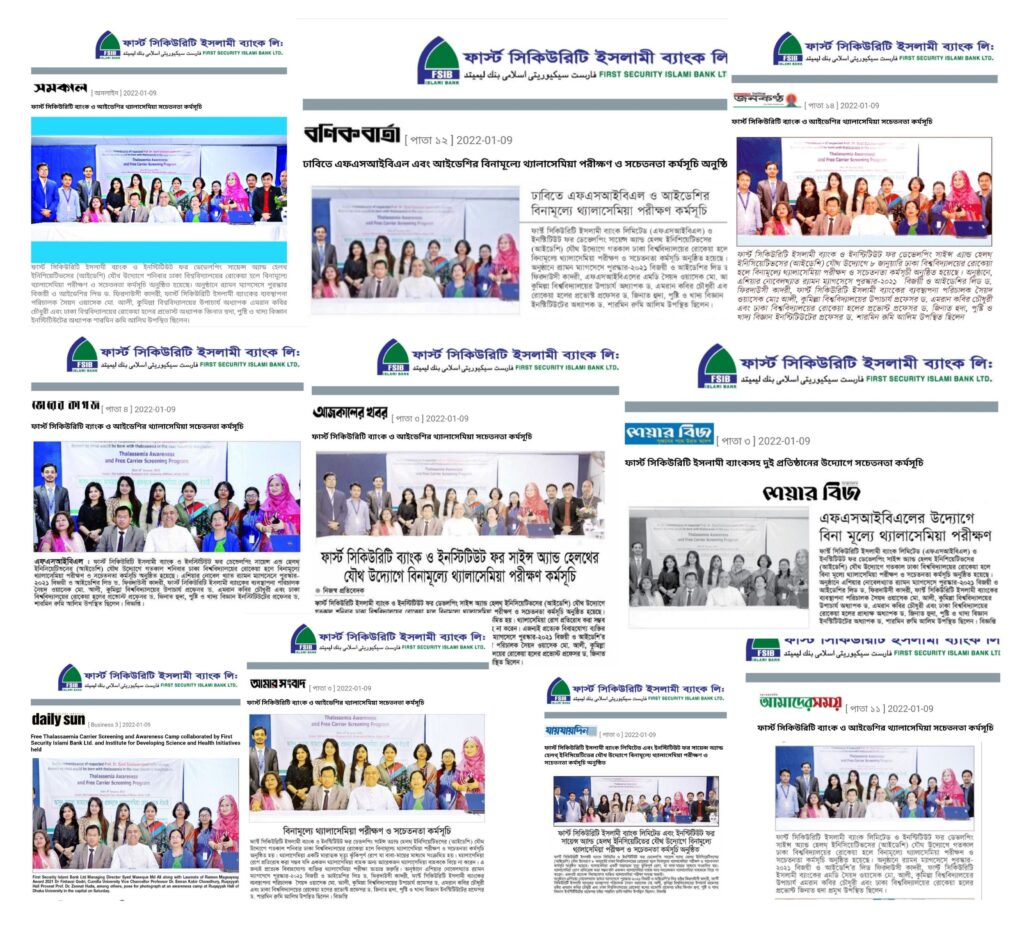 Media coverage of ideSHi's "Thalassemia Awareness and Free Carrier Screening Program" held on January 8, 2022.