We are pleased to announce that ideSHi has relocated to its own premises in December of 2021 at Kalshi Road, Mirpur. The 5000 sq. ft. compound is divided into two parts: the laboratory, and administration and office area. ideSHi has government-approved diagnostic and research facilities following the international benchmark. The laboratory consists of the following units:
Clinical Biochemistry and Immunology
Emerging and Re-emerging Pathogen Laboratory
Automated Culture and AMR
Media and Reagent Facility
In vitro Vaccine Effectiveness Study Unit
Molecular Unit
Cold Chain Facility
BSL-2 Plus Facility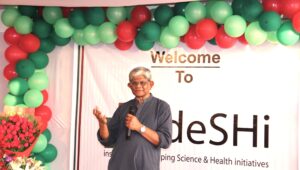 On December 17th 2021, we have officially shifted and conducted an opening ceremony followed by a short tour of the laboratory premises on 11th floor of the building. The event commenced at 3:30pm with a short prayer followed by speeches from ideSHi lead, Dr. Firdausi Qadri; former Bangladesh Bank governor, Mr. Salahuddin Ahmed; and the Director of Bangla Academy, Dr. Jalal Ahmed. An inauguration program was arranged on the following day with the attendance of renowned minds of the country including scientists, professors, directors, doctors and bankers. Dr. Meerjady Sebrina Flora, Additional Directorate General of Health Services, of the Government of Bangladesh chaired the session.