On November 21, Ms. Eva Sebbane and Mr. Eric Nerrienet from Fondation Mérieux visited the new ideSHi campus in Kalshi, Dhaka. During this visit, ideSHi researchers and staff joined the delegates in discussing the growth and direction of the institute with regards to the improved and expanded laboratory facilities, which were showcased to the visitors by our scientists. ideSHi lead Dr. Firdausi Qadri, who was self-isolating, graced the group with her presence and valuable insights through video conferencing. 
Ms. Sebbane is the Partnership and Fundraising Manager, Direction des Opérations Internationales at Fondation Mérieux. Mr. Nerrienet is a virologist with Institut Pasteur in Paris. This visit is a part of the ongoing partnership and goodwill between the institute and the Foundation, which started with the establishment of ideSHi in 2014. The Foundation has visited in the past as well, including the President of Fondation Merieux, Mr. Alain Merieux himself visiting in December 2018.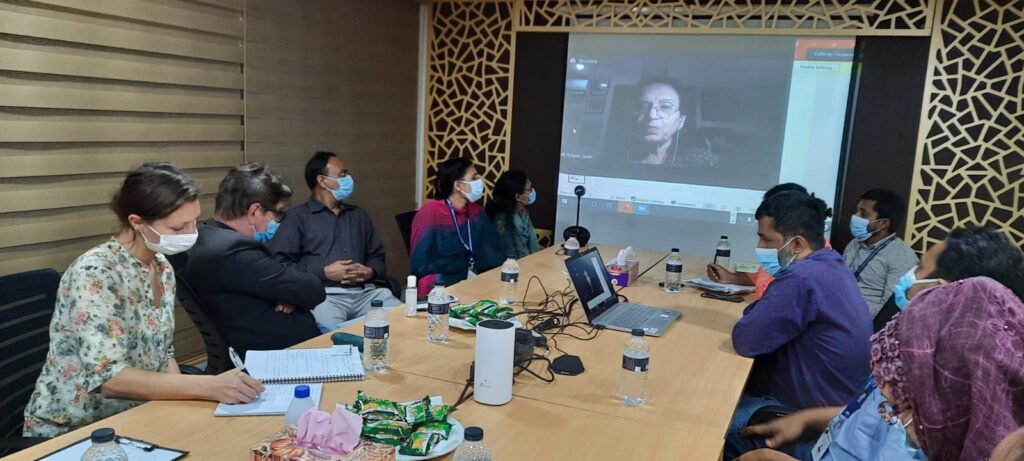 Visitors and ideSHi staff join lead Dr. Qadri in a video conference.
The idea behind ideSHi emerged when Dr. Firdausi Qadri was awarded the Christophe Mérieux Prize by the Institut de France. Since the beginning, the objective of ideSHi was to meet Bangladesh's most crucial needs and to address its gaps in the field of biomedical sciences. This mission aligns closely with that of Fondation Mérieux, who aims to share their experience, expertise and partnerships to strength biological diagnostic capacities in developing countries.
The pleasant visit was concluded with hopes for future collaborations between the two organisations.