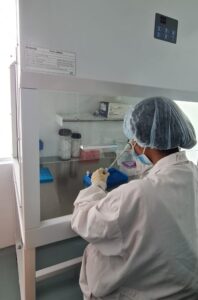 Register for an at-home COVID-19 RT-PCR test here.
As the COVID-19 pandemic puts an enormous strain on world public health infrastructures, public health professionals face a challenge unprecedented since the 1918 Spanish Flu pandemic. Scientists from around the globe has responded with openness and unparalleled speed, investigating the SARS-CoV-2 virus aiming at developing new diagnostic technologies, treatments, and tools for researchers. Researchers at Institute for Developing Science and Health Initiatives (ideSHi) are contributing to this global effort in fighting the pandemic.
Working in partnership with Directorate General of Health Services (DGHS), Institute of Epidemiology Disease Control and Research (IEDCR) and icddr,b, the Infectious diseases laboratory at ideSHi has begun processing COVID-19 test samples from patients across Bangladesh. Since March 21, 2020, ideSHi has been testing for COVID-19 returning its first batch of results back to IEDCR within 4.5 hours of receiving samples.
Dr. Firdausi Qadri, the chairperson of ideSHi, talked about how she and her team halted all other work at the infectious diseases laboratory and quickly scaled the facility to enable testing of approximately 500 samples per day.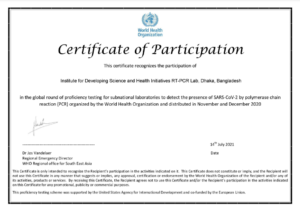 RT-PCR Tests
At ideSHi, we carry out RT-PCR tests to make COVID-19 diagnoses. Small amounts of genetic material from the SARS-COV-2 virus in nasal swab samples is amplified inside the RT-PCR machine to detectable levels if present, to provide an accurate and reliable diagnosis that is considered the gold-standard for COVID-19 testing. ideSHi has been approved by the Bangladesh government for conducting COVID-19 RT-PCR tests for travellers and general population. We have also recieved certification by the World Health Organisation (WHO) for participation in a global round of proficiency testing for subnational laboratories to detect the presence of SARS-Cov-2 by PCR.
Rapid Antigen Tests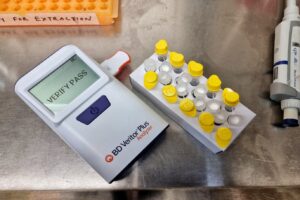 Alongside RT-PCR, we also carry out RAD Rapid Antigen Tests for COVID-19. Antigen tests can be used in a variety of testing strategies to respond to the coronavirus disease 2019 (COVID-19) pandemic. Antigen tests are immunoassays that detect the presence of a specific viral antigen, which implies current viral infection. Antigen tests are currently authorized to be performed on nasopharyngeal or nasal swab specimens placed directly into the assay's extraction buffer or reagent. At ideSHi, two antigen tests are being used. One is Standard Q™ COVID-19 Ag Test by SD Biosensor© and the other is BD Veritor™ System developed by Becton, Dickinson and Company. The antigen tests are being performed alongside the regular RT-PCR Tests to correlate the accuracy of the antigen kits themselves.