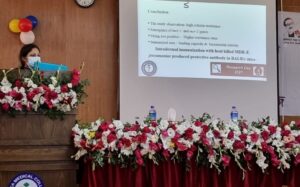 We are pleased to congratulate our Assistant Scientist Dr. Zannat Kawser on winning the 2nd Prize on Research Day, 2021. Organized by Dhaka Medical College Hospital on 9th December, 2021, Research Day was part of the nationwide celebration of the 100th birthday of the Father of the Nation, Bangabandhu Sheikh Mujibur Rahman. A panel of renowned scientists and thinkers judged the oral and poster presentations, including Dr. Firdausi Qadri. Honorable Health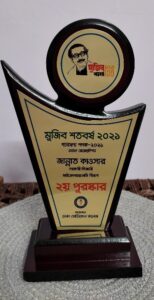 Minister Mr. Zahid Maleque was present at the prestigious event.
Dr. Kawser's incredible achievement on Research Day follows her eloquent presentation of her Master's Thesis on MDR Klebsiella Pneumoniae with an approach to develop a killed vaccine against the bacterium. She was previously selected for oral presentation at 15th Asian Conference on Diarrheal Disease and Nutrition, 2020 on this topic.
Dr. Kawser is one of the key members of ideSHi in terms of research contribution, leadership and work ethic. She is involved in a number of research projects at the institute, including notable work on alternative methods of SARS-CoV-2 detection and COVID-19 immune response. She plans to continue contributing to the field of immunology and vaccinology through her research.