From 7th to 10th November, 2021, ideSHi participated in the 11th Global Approach to Biological Research, Infectious diseases and Epidemics in Low-income countries (GABRIEL) network meeting. The meeting was held in Les Pensières Center for Global Health at Veyrier-du-Lac, France.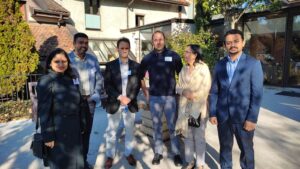 The GABRIEL network is composed of 20 institutes, including ideSHi. Every 18 months, these institutions congregate to present and discuss the results of collaborative research studies and design new projects. This year's conference hosted over 80 participants from 15 countries, and presentations were focused on respiratory infections, tuberculosis and on antimicrobial resistance. A special session on COVID 19 was organized on the 8th of November.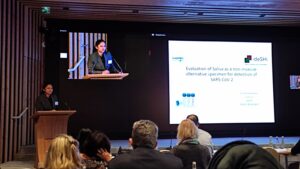 In the conference, ideSHi Lead Dr. Firdausi Qadri, Assistant Scientist Dr. Zannat Kawser and Senior Research Officer Abu Bakar Siddik delivered talks on the ongoing research at ideSHi. Dr. Kawser presented her findings on the evaluation of saliva samples as an alternative to nasopharyngeal swabs for diagnosis of COVID-19. Mr. Siddik presented his etiological study on respiratory infections such as Pneumonia in Forcefully Displaced Myanmar Nationals in Bangladesh.
Source: https://gabrielnetwork.org