Inauguration of Extended Premises of ideSHi
28 March, 2018
ideSHi extended its laboratory facilities to a new premise situated at Hosaf High Tower (8 th Floor), 09 Mohakhali Commercial Area, Dhaka 1212. The inauguration ceremony was held on 28 March 2018. Honorable Director General, Directorate General of Health Services (DGHS), Ministry of Health and Family Welfare, Bangladesh, Professor A. K. Azad, graced the ceremony as the chief guest. The inauguration was followed by a lecture by Professor Song Xiaoyuan of the University of Science and Technology, Hefei, People's Republic of China, entitled "Three-Dimensional Genome Structure in Cancers"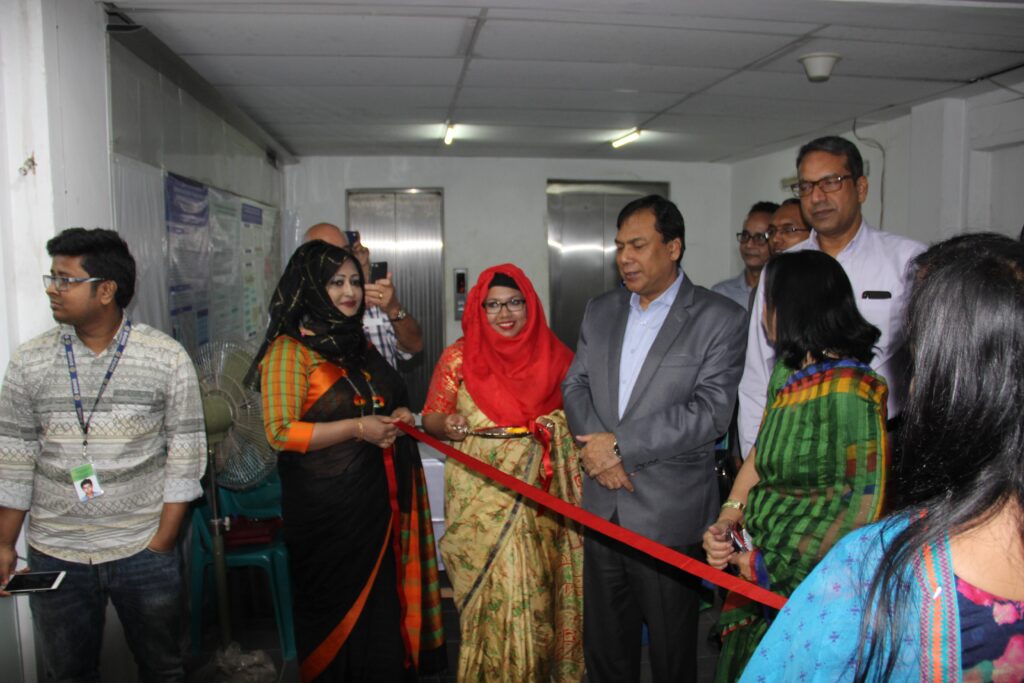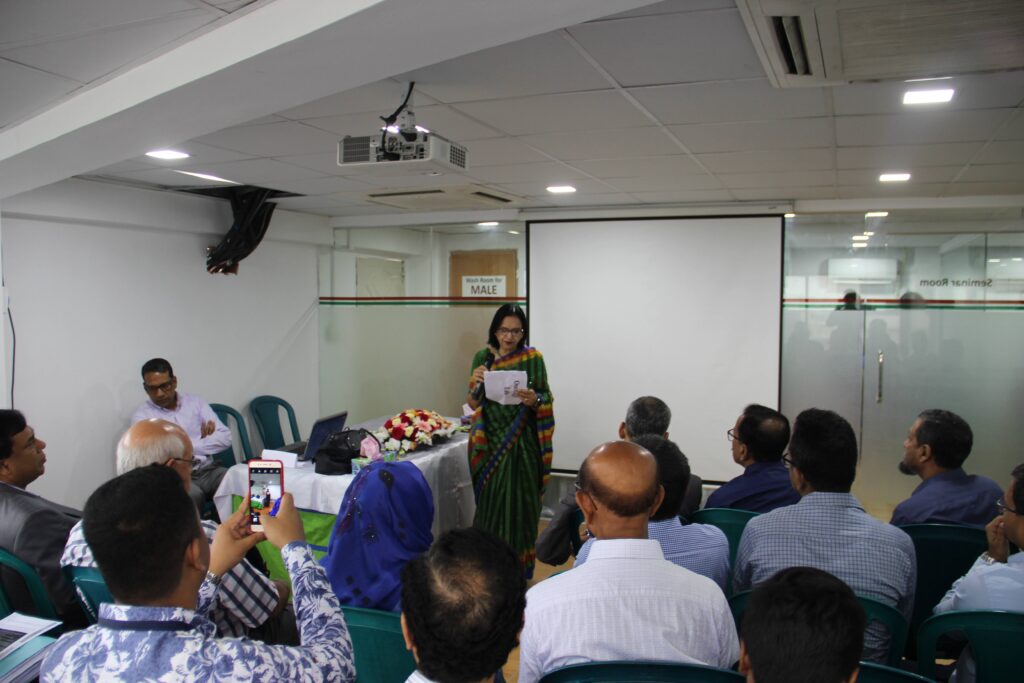 ---
Joint Workshop on Applied Genetics and Genomics
26 November-30 November, 2017
A five day workshop from 26 November-30 November, 2017 was jointly organized by ideSHi-CMBT and icddr,b on applied genetics and genomics for biomedical researchers. Lectures and training exercises were dealt by visiting guests, Dr. Nick Thomson from the Sanger Institute, UK; Dr. Diane Genereux from the BROAD institute, USA; Prof. Ann Dalton from Sheffield Children's NHS Foundation Trust, UK; Dr. Sanjan Kumar Das of Barisal Biotech; Dr. Niaz Ahmed and Dr. Ramani from icddrb.
Day 1:
Dr. Firdausi Qadri
Acting Senior Director, Infectious Diseases Division, icddr,b
"High Throughput Technologies in Better Understanding Enteric Infections"- our experience so far."
Doctor Qadri's focus was upon epidemiology of cholera infection in Bangladesh based on her research work with national and international collaborations
Dr. Kaiissar Mannoor                                                 
Senior Scientist and Head, ideSHi
"Power of DNA Technologies in Screening & Diagnosis of Genetic Disorders"-
Dr. Mannoor discussed the use of molecular based technologies for diagnosis and detection of in-born errors of metabolism
Prof. Nicholas Robert Thomson

Sanger Institute, UK
Molecular Microbiologist and Genome Scientist
 "Genomic Epidemiology of Cholera"
Dr. Thomson, in his first scientific session of the seminar examined the movement of Cholera pathogenic strains based on phylogenetic analysis of sequences, using geographical and historical context to demonstrate the possibility of unexpected origins and predictable patterns.
Dr. Diane Genereux                                                   
Broad Institute of Harvard University, USA
"Host-side Genomics as a Portal into the Dynamics of Cholera Infection"
Dr. Genereux for her first scientific session went into the details of narrowing down from a multitude of levels the most relevant sequences from genome data for particular disorders or diseases using statistical tools such as Manhattan plots.
Day 2:
Dr. Niaz Ahmed                                            
Senior Director, Laboratory Sciences & Services Division, icddr,b
"Comparative Genomics of Pathogenic Bacteria"
Dr. Niaz Ahmed's lecture focused on the evolution of bacterial genomes using Mycobacterium leprae, Helicobacter pylori and Escherichia coli as the primary archetypes. He conceptually reasoned how some bacteria such as M. leprae have been shedding its core genome over the past 100 million years to settle into a parasitic niche, while others such as H. pylori and E. coli favor the uptake of accessory genes in favor of a more versatile, free-living lifestyle.
Day 3:
Prof. Nicholas Robert Thomson
Molecular Microbiologist and Genome Scientist, Sanger Institute, UK
"What Does a Bacterial Genome Look Like and How Does It Vary"
    Dr. Thomson gave a comprehensive hands-on training to our researchers on the comparative genomics tool, Artemis Comparison Tool (ACT)
Dr. Ramani Baddam                                                                           
Senior International Fellow, icddrb
"Introduction to Next Generation technologies & Data analysis
   Dr. Ramani shared her expertise on the use of various sequencing platforms including Sanger, Ilumina and PacBio technologies.
Day 4:
Dr. Diane Genereux                                                                          
Broad Institute of Harvard University, USA

Dr. Genereux focused on the applications of Genome Wide Association Studies (GWAS) for investigation of key locations of significance in sequence reads before finishing with an exercise on building Manhattan Plots from raw data.
Prof. Ann Dalton                                                                         
Sheffield Children's NHS Foundation Trust, U.K.
"Variant nomenclature and its application in clinical practice"
Professor Dalton trained how researchers or clinicians must interpret the coding classification of various sequence mutations using authentic patient results.
Dr. Sanjan Kumar Das
Chief Scientific Officer, Barisal Biotechnology UK Ltd
Dr. Das emphasized the importance of advancing the field structural genomics versus traditional genomics. He used his time to inspire philosophy, sacrifice, integrity and benevolence to attendees as he concluded the session.
Day 5:
Dr. Tahmina gave an introduction on the current emerging pathogen outbreaks a world-wide and local perspective. She elucidated the processes of using molecular and serological methodologies to report pandemics outbreaks including Zika, Chikungunya and Dengue from clinical samples obtained from around the country
---
ideSHi organizes National Conference on Diagnosis of Genetic Disorders in Bangladesh
April 15, 2017
On April 15th 2017 ideSHi organized a National Conference on Diagnosis of Genetic Disorders in Bangladesh: Present Situation and Future Directions. Scientists and clinicians stressed the need for initiating mandatory nationwide screening of new-born children in order to identify those at risk of having genetic diseases. Several genetic diseases like thalassemia, congenital hypothyroidism, Down syndrome, and muscular dystrophy are common in Bangladesh and causes severe financial, physical and mental distress, not just to those children affected but also to the entire family. The distressed children can many a times be treated, and/or managed to reduce sufferings and the disease can even be prevented by parental counselling. Many of these diseases result from consanguineous marriages and proper awareness and counselling as necessary can help prevent proliferation of these diseases. Diagnoses for these genetic diseases are done on many occasions by sending samples abroad. However, facilities for routine diagnosis and screening are now being developed at local institutions like the institute for Developing Science and Health Initiatives (ideSHi) located at Centre for Medical Biotechnology at the Institute of Public Health. The conference was attended by over 150 researchers and clinicians from BSMMU, BIRDEM, DMC, SSMC, DU, IPH, AFIP, NINS, BSMG, NIPSOM and ideSHi. Prof. Dr. A. K. Azad Khan, President BADAS attended the conference as the chief guest, while Dr. A. K. Azad, Director General, DGHS, MOHFW, and Dr. John D. Clemens, Executive Director ICDDR,B were special guests. Prof. Dr. Naiyyum Choudhury, Chairman, BAERA and Prof. Dr. Deen Mohammed, Director NINS presided over the conference.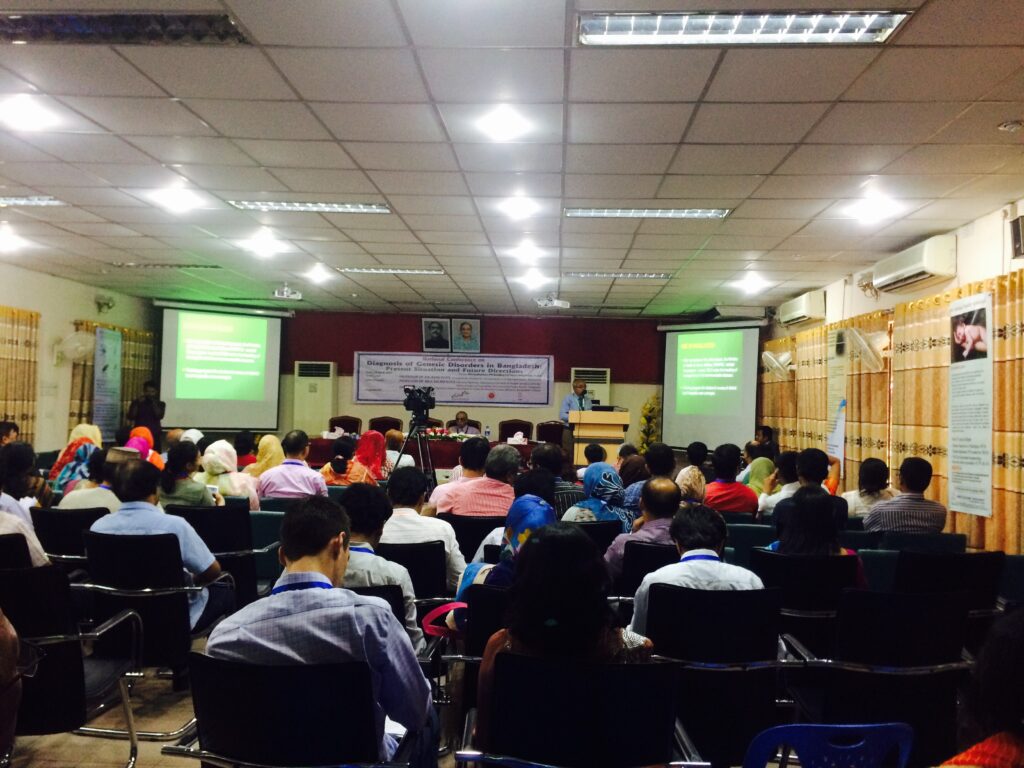 ---
ideSHi at ASM workshop on Introduction to the World of Microbiology
December 19, 2016
ideSHi along with American Society for Microbiology (ASM), BRAC University and International Center for Diarrheal Disease Research Bangladesh (icddr,b) held a workshop for students from Scholastica School, South Breeze School, Independent University Bangladesh, and Jahangirnagar University titled "Introduction to the World of Microbiology". The workshop included debate sessions, and laboratory training sessions aimed at encouraging youngsters to pursue a future in the field of biological sciences.
---
ideSHi winter picnic
December 16, 2016
The folks of ideSHi family took a long needed break and went for picnic to Zirani Bazaar, Savar on 16 December.
---
ideSHi at BSBMB national conference on biochemistry and molecular biology for life sciences
December 10, 2016
The following talks and posters featured ideSHi presenters at the 2016 annual BSBMB national conference on biochemistry and molecular biology for life sciences that took place in Nabab Nawab Ali Chowdhury Senate Bhaban, University of Dhaka, December 01.   
---
Annual General Meeting
December 03, 2016
The 1st Annual General Meeting of the ideSHi foundation was held at the Health System Strengthening and Global Health cell (HSS & GH)/CMBT conference room, Institute of Public Health Building, Mohakhali, Dhaka, Bangladesh, on Saturday, 03 December. The AGM was dedicated to the loving memory of our Board of Trustee member and National Professor Late Dr. M. R. Khan.
---
World Life Science Conference 2016   
Nov-1st-3rd
Dr. Mohammad Sazzadul Islam presented his poster titled "Antimicrobial resistance pattern of acute respiratory infection (ARI) in under-five children in Bangladesh" at the World Life Science Conference (WLSC) 2016 organized by the China Association of Science and Technology (CAST) and the China Union of Life Science Societies which took place at China National Convention Center in Beijing, China, November 1-3. The conference covered the latest and most exciting discoveries in basic research, technology development, government policies
and science education in the areas of health, agriculture and environmental science. Many leaders of international academic organizations and hundreds of outstanding scientists in the field of life sciences around the world were invited to attend.
---
Inauguration of the Genetics & Genomics Laboratory at ideSHi
August-29, 2016
On August 29th, 2016, the Honorable minister of health and family welfare of the Government of People's Republic of Bangladesh, Mohammad Nasim M.P inaugurated the Genetics and Genomics Laboratory at the institute for developing Science and Health initiatives (ideSHi).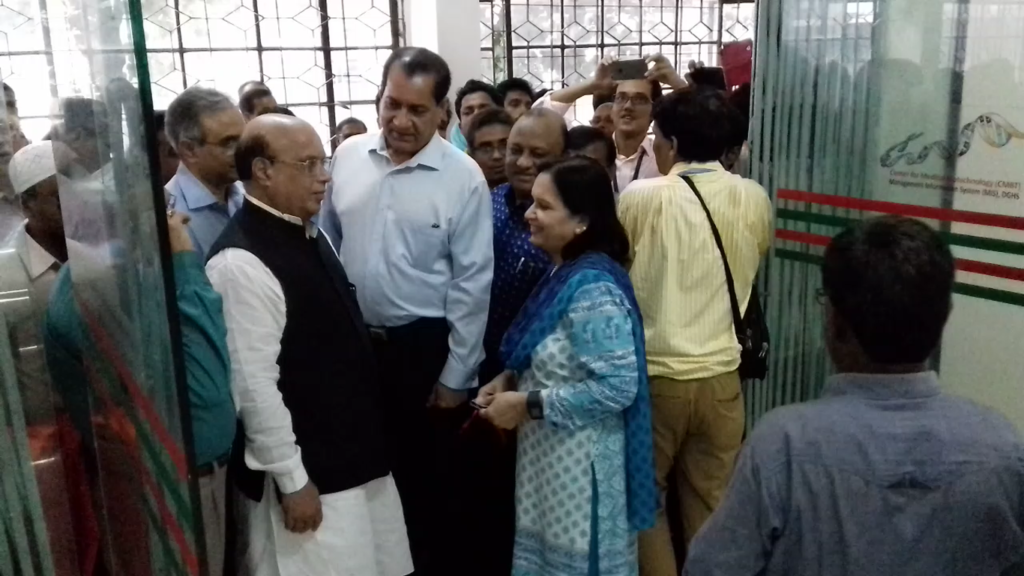 ---
Dr. Mannoor at Broad Institute
July 18-August 12, 2016
Dr. Md Kaiissar Mannoor, Head and Scientist of ideSHi attended a foundational training workshop in genomics hosted by The Sabeti Lab at Harvard University and The Broad Institute of Harvard and MIT during the 2016 ACEGID (African Center of Excellence for Genomics of Infectious Diseases) Summer program between July 18 and August 12.
---
ideSHi at 8th Gabriel network annual meeting 
July 5-8, 2016
Asifuzzaman Rahat presented his work titled "surveillance of acute respiratory and enteric infections in two hospitals in Dhaka, Bangladesh" at the 8th Annual GABRIEL Research Network Meeting, an international conference held at Vientiane, Laos, between July 5-8 where scientists from 25 countries presented research results on infectious diseases threatening developing countries.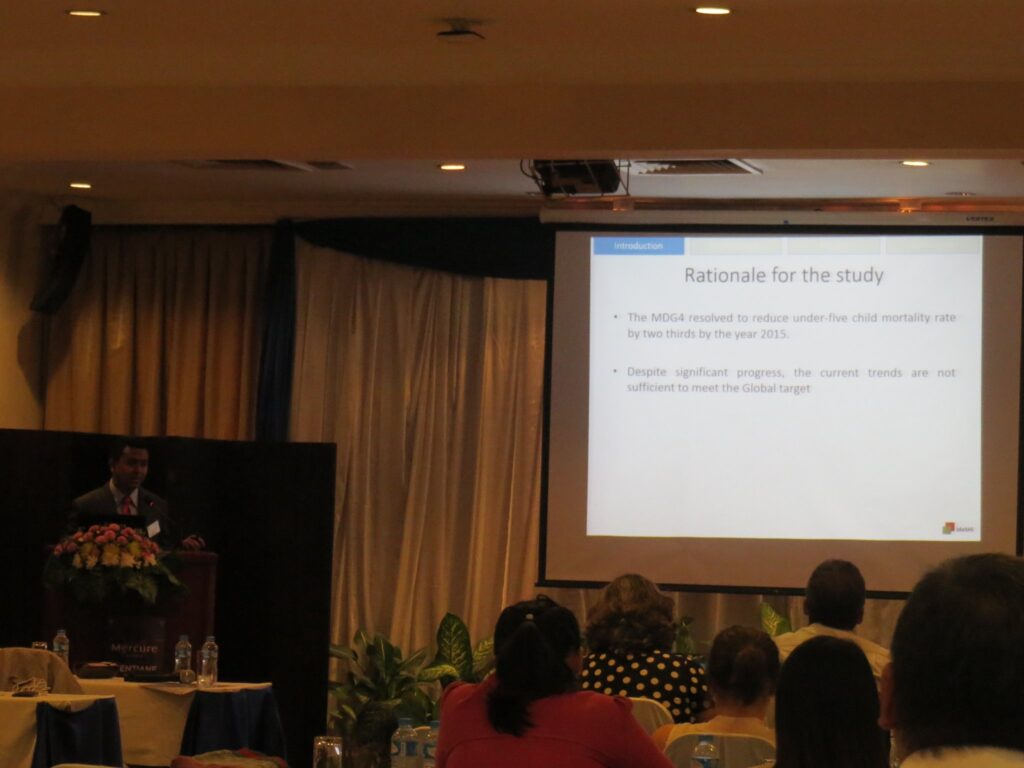 ---
ideSHi at SABC
February 05-06, 2016
The following talks and posters featured ideSHi presenters at the 2nd International South Asian Biotechnology Conference (SABC) 2016 that took place in Nabab Nawab Ali Chowdhury Senate Bhaban, University of Dhaka February 05-06.
Asifuzzaman Rahat– "Multi-hospital surveillance of acute respiratory and enteric infection in under-five children in Dhaka, Bangladesh" (Talk)
Mohammad Tarikul Islam– "Molecular analysis of glucose-6-phosphate dehydrogenase enzyme deficiency in Bangladesh" (Talk)
Mohammad Amir Hossain– "Study of the Antimicrobial Activities of the Bark extract of Cinnamomum verum on Multi-Drug resistant Klebsiella pneumoniae and Enterobacter agglomerans" (Poster)